By TBC on June 2, 2018
How He Asked
Veronica and John made a promise to one another that at least every other year, they'd spend New Years in a different country. To ring in 2017, they traveled to Jamaica! It never occured to Veronica that John might propose while on the trip. After all, they'd been together for over five years and were perfectly happy. On December 30th, after finishing dinner the two were headed for some live entertainment at their hotel. On the way, John casually mentioned he needed to leave for a moment to use the restroom. Veronica offered to walk with him back to their room, and while it threw John off a little, he didn't try to fight it. Instead, he found a way to work around it! While Veronica watched the entertainment from their hotel balcony, he snuck to his secret hiding place where he had stashed the ring.
As they made their way down the elevator to catch the entertainment, John asked Veronica if she wanted to go for a walk instead. As their stroll took them near a gazebo in the hotel's garden, John seemed a little nervous. Once they reached the gazebo, he pulled Veronica in for a hug. "Let's spend 2017 engaged," he said, "will you marry me?" Immediately she said yes! They spent the rest of their trip blissfully anticipating their future wedding.
Wedding Dress Shopping
Once they returned from their memorable trip to Jamaica, Veronica began researching bridal shops in Colorado. One of her closest friends recommended The Bridal Collection. She booked her bridal appointment during a Justin Alexander trunk show! Before she started the search for the dress, Veronica didn't have a specific dress style in mind. Nervous and excited all at once, she walked into The Bridal Collection with her parents and one of her best friends. Her bridal stylist introduced herself and showed the group around. After having a conversation about the wedding and what she envisioned as her dream wedding dress, they perused the showroom to pick out a few dresses to try on.
Veronica fell in love with the second dress she tried on — a Justin Alexander A-line wedding dress with a gorgeous plunging neckline. It was timeless, romantic, and perfect for her destination beach wedding in Mexico. She couldn't have said "YES" to the dress at a more perfect time. Her visited was during a trunk show, so she got to meet the designer, Justin, himself! It was even more confirmation that she had chose the right gown.
The Wedding Day
Veronica and John always knew they wanted to tie the knot in Mexico. From the moment they began the conversation of getting married they planned to have a destination wedding in the Yucatan. While searching for a venue, Veronica came across a hotel that they had stayed at in the past. She recalled telling John that if they ever got married in Mexico, that hotel was where she wanted it to happen. Immediately, she called John to tell him about a deal their travel agent found. He told her "you loved that hotel and so did I, let's do it."
Veronica and John said "I do" in Cancun, Mexico at the Hyatt Ziva Cancun. Their ceremony was held on the Cliffside Gazebo, where their closest family and friends joined them.  When Veronica woke up on her wedding day, it was pouring rain outside. This worried her, because both she and John were really hoping to have their ceremony and reception outdoors. Her wedding coordinator contacter her and said that they needed to make the final call by 2pm. Hopeful, Veronica began her hair and makeup appointment in the bridal suite. When 2pm rolled around, her coordinator sent a few photos of the sky with the words Veronica desperately wanted to hear: "It stopped raining". They made the call to proceed with the original outdoor plans!
When it was time for the ceremony, Veronica met up with her dad to walk down the aisle. She saw the sun beaming down on their wedding gazebo. This sight brought her to tears! With perfect weather, John and Veronica said their vows in a short, but sweet, ceremony. They celebrated their new union with a fantastic cocktail hour and reception. The day could not have been more perfect!
Congratulations, Veronica and John! We are so honored to have been part of your special day.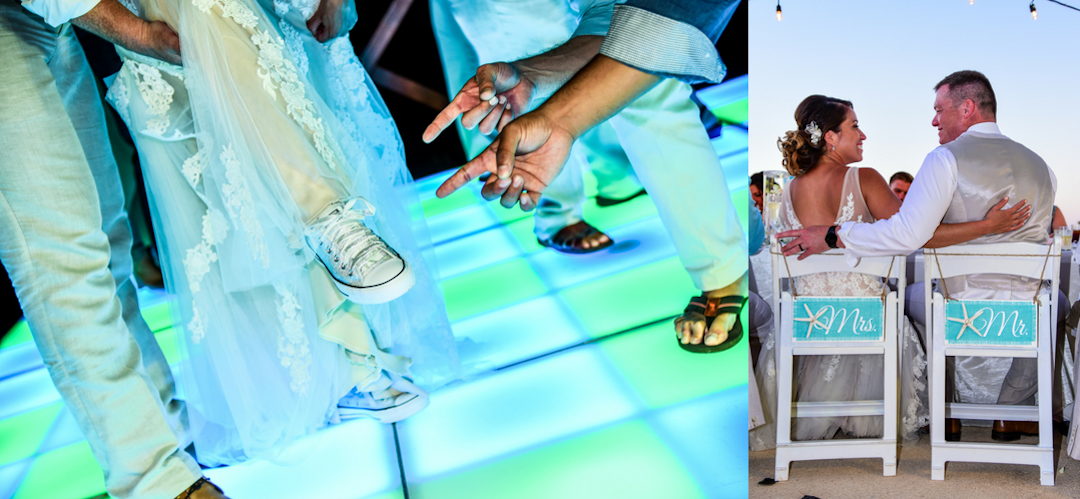 Vendors:
Bride's Attire: The Bridal Collection
Dress Designer: Justin Alexander
Photography: Romanza
Bride's Bouquet: GAMA
Rings: Zales
Ceremony/Cocktail/Reception: Hyatt Ziva Cancun
DJ: Encore